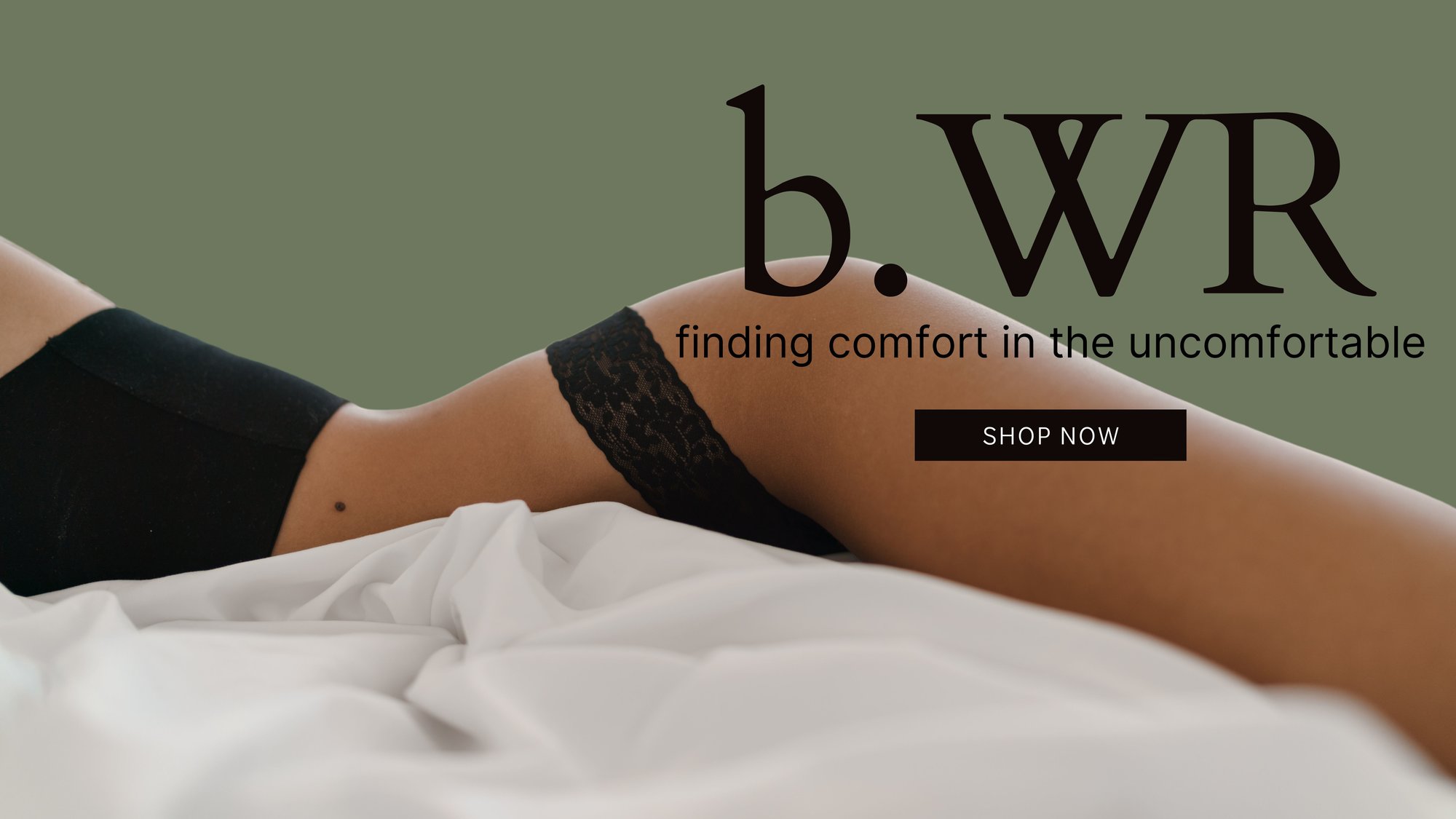 ARE YOU AWARE OF WHAT'S IN YOUR UNDERWEAR?
MOST UNDERWEAR IS MADE OUT OF PLASTIC.
Aside from cotton and nylon, we don't really know what we're putting on the most intimate, sensitive parts of our body
SHOP b.WR
Feel the difference
BENEFITS OF BAMBOO
Feels like silk. Bamboo fibers are naturally smoother and rounder.
40% more absorbent than the finest organic cotton, wicking away moisture from skin and keeping you dry.
No skin irritations or allergies. The perfect match to those with sensitive skin.
Anti-Bacterial & Odor Resistant
Natural antibacterial bio-agents fight bacteria to keep you feeling fresh and odor free
rhodiola, shiitake and cordyceps
Decrease stress and fatigue, increases stamina and boosts your immune system
helps muscle strength and recovery, fights inflammation, helps regulate your immune system
BOOSTS ENDURANCE AND ENERGY PRODUCTION, improves brain function, supports cellular health
hELPS WITH BODY REGULATION, MOOD, AND METABOLISM
FEEL THE SOFTNESS
"The Most Comfortable Undies I've Ever Worn"
b.WR VS. Everyone else
MADE FOR EVERYBODY, EVERYDAY
MAde for everybody, everyday
BUY NOW
b.WR exists to prioritize comfort
Comfort comes from the first touch. Comfort comes from trust - in knowing only the highest quality materials make up your underwear.
WE'RE ON A MISSION TO PROVIDE THE MOST THOUGHTFUL UNDERWEAR FOR YOUR INTIMATE WELLNESS
Because feeling sexy starts with comfort.
We believe comfort goes beyond what's on your body.
We want to dig deeper.
b.WEAR is thoughtfully crafted with sustainable bamboo fiber to provide natural, breathable, and luxuriously soft intimates for the most important part of your body.
WHY b.WR?
Quality
Comfort is everything to us. We are obsessed with creating the most comfortable intimate experience.
Our products are thoughtfully crafted from sustainable bamboo fiber to provide natural, breathable, and luxuriously soft underwear for the most important parts of your body.
Awareness
Our goal is to open up the conversation of all things intimate.
To foster a community of education and advocacy to break down the stigmas of sexual health and pioneer the next generation of sexual wellness.
Sustainability
Made from bamboo, our undergarments are sustainable and guilt-free.
Bamboo is one of the fastest-growing plants on Earth. The more you cut, the more it grows. It uses 3 times less water than cotton, absolutely no pesticides, and can absorb 35% more carbon dioxide from the air than a tree of the same height.
LEARN MORE
GET COMFORTABLE
Honestly, the best underwear I've ever tried! I can't wear any other boxer briefs. So comfortable! Pro tip, if you like them to fit a little looser, size up.
I've been shopping around for a good pair of boxers and have bene constantly disappointed either by the material or the way they ride up after a long day. These boxers have changed my mind. They're an amazing fit and feel, incredibly soft and hold up great with high physical activity. Big fan of the brand and will continues to buy more.
Originally, I bought them for my husband, but I decided to keep them. They are so comfortable to sleep in!
Definitely the most comfortable boxer briefs I've ever worn! Love them!
the best! most amazing fabric...10/10 recommend
Super comfy, look great, feel great
BUY NOW